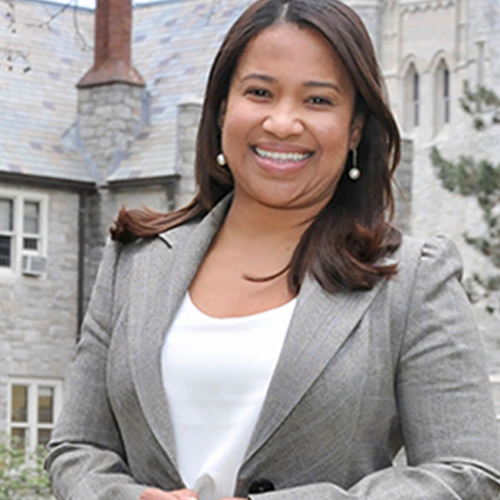 Adma Moura found her path from paralegal to attorney at UConn School of Law.
"I would not have become an attorney had it not been for the LLM program at UConn Law," Moura said. After she arrived in the United States in 2003 with a law degree from the Universidade de Itaúna in her native Brazil, she worked her way up to the position of senior paralegal at the Ventura Law Firm in Danbury, Connecticut. After she graduated from UConn Law in 2015 with an LLM in U.S. Legal Studies, she was admitted to the Connecticut Bar and promoted to associate attorney.
Moura said she gained practical knowledge about the American legal system through her paralegal job, but wanted a formal education and understanding, as well as the opportunity to practice law in this country. The U.S. Legal Studies program is for students who have earned a law degree outside the United States and allows them to sit for the bar exam in several states, including Connecticut.
Moura wrote her final LLM paper on immigration law, focusing on unaccompanied minors. At the time, undocumented and unaccompanied minors were arriving at the U.S. border in unprecedented numbers from Mexico, Guatemala, Honduras and El Salvador. Her paper, "Unaccompanied Children: The Need for an Explicit Right of Free Counsel," was closely supervised by Professor Jon Bauer, who directs the Law School's Asylum and Human Rights Clinic, and for whom Moura has great admiration.
In her paper, Moura argued that the United States should provide government-appointed counsel by statutory right. She discussed issues related to the lack of free representation, such as the strain on the immigration system and limited understanding of its complexities.
Moura said her decision to attend UConn Law was one of the best decisions she has ever made. The experience exceeded her expectations, she said, and the professors were remarkably knowledgeable and approachable.
"The fact that the LLM program allowed us to be integrated with the U.S. law students and the small group classes made learning more real and enjoyable," she said.
Moura loves Brazil, but has chosen to live in the United States, which she said is a country of opportunities where people can accomplish anything they set their minds to.